Beneficiary
Money raised goes to Heart of Australia, Life Flight and Ongoing restoration of the Jimboomba Community Hall.
---
Heart of Australia

It's a program that embodies the most innovative approach to front-line specialist medical service delivery in generations, specifically aiming to help Australians whose lives are threatened by this nation's vast distances.
Heart of Australia delivers fortnightly specialist medical investigation and treatment clinics to regional, rural and remote area communities across Queensland, including Dalby, Goondiwindi, Stanthorpe, St George, Charleville, Roma, Emerald, Barcaldine, Longreach, Hughenden, Charters Towers and Moranbah.
Our customized road train – a specialist medical clinic-on-wheels – has travelled more than 72,000km in its first year on the road, covering an area of more than 450,000 square kilometres.
Heart of Australia is breaking the grip of distance that denies rural and remote-area Australians access to services when and where they are needed most.
---
Life Flight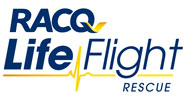 LifeFlight is a world leader in aeromedical care and Australia's most diversified service with both a fixed and rotary wing fleet.
We help seriously ill and injured patients around Australia and the world to quickly get the medical care they need.
From rapid response, to inter-facility transfers our team of more than 400 staff members, including aviation crew, support staff, and over 100 doctors are a lifeline to vulnerable individuals.
Across Australia LifeFlight doctors attend to more than 10 patients a day.
As a leading Australian charity we operate 12 rescue helicopters and three air ambulance jets across 11 locations. Seven of these are LifeFlight's own aeromedical bases. We supply doctors and nurses to all Queensland-based rescue helicopters, the iconic Royal Flying Doctors aircraft as well as road ambulance services.
Our staff are specially trained in pre-hospital retrieval medicine through our internationally recognised training academy.
LifeFlight has flown 44,000 critical rescue mission over the past 35 years
We serve both the community and industry clients, operating a charitable service and 'profit for purpose' commercial enterprises that helps fund our charitable activity. Surplus profit from our social enterprises are used to make sure our community helicopters remain on standby 24 hours a day, everyday of the year.